THE SONS OF JOHN FESMIRE

Of the ten children of John and Mary Fesmire, four were girls and six were boys. Little is known of the girls except their married names: Maria's was Smith, Martha's was Gilluspey. Elizabeth was married to Jacob Engle and lived to a ripe old age in Shoemakertown, Cheltenham Township. Sophia was married in the Frankford Presbyterian Church, January 6, 1825 to Charles Snyder, and on the same day her brother, Samuel, married Charles' sister, Elizabeth. The two families thus were doubly joined.

The sons of John and Mary are as follows: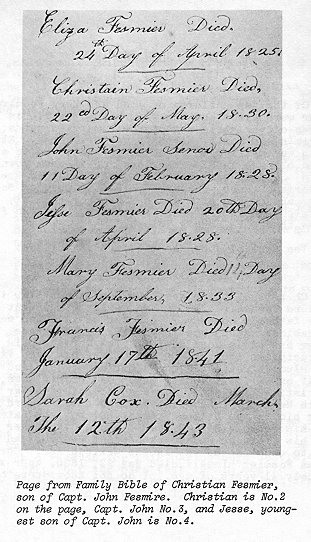 Christian Fesmire

Christian, the eldest was born about 1789 in Oxford Township. He served as lst lieutenant in his father's company in the War of 1812 and was a cabinet maker, possibly learning the trade from his uncle John Bowler. The Philadelphia directories from 1816 to 1830 list his shop first at Plum Street, then on Catherine Street, and last on Callowhill near 9th. One of his sons, Christian Lafayette, was a soldier in the War with Mexico. I have not located a war record for him in the National Archives, but the date of his death-- May 22,1846-- and a GAR marker on his grave at Pennypack Baptist Church lead me to conclude he was in the Mexican War. Christian Fesmier himself died May 22, 1830, approximately 41 years of age. I do not know where he is buried.

John Fesmire

John, Jr. was born in 1792 and like his brother served in his father's company "The Independent Frankford Riflemen." He was a farmer in Oxford during his early years, but later became an innkeeper in Bridesburg, Philadelphia. He married three times, each time a widow, but there was no issue of these unions. He died July 10, 1855 and is buried at Trinity Oxford Church.

Peter Fesmire

Peter I. Fesmire, my great, great grandfather was born January 7, 1793, in Oxford Township. He is the last of the sons who served in his father's company in the War of 1812. After the war he married Catherine, daughter of Henry Castor, the marriage taking place in the Frankford Presbyterian Church.

Peter was farmer, first in Oxford and later in Abington and Cheltenham townships. He also owned property in Milltown, Delaware, perhaps because three of his children had moved there. Josiah, Catherine and Ann all lived and died in Delaware. There were 14 children born to Peter and Catherine, and Peter had a fifteenth child by his second wife, Jane Walton, when he was 60 years of age. His youngest son John, born September 1, 1840, served in the Pennsylvania cavalry in the Civil War and died on March 13, 1862, not of wounds but of what was called "black measles" which probably was some form of camp sickness. His body was brought home in a box to his parents and is buried next to them at the old burying ground of the Cheltenham Methodist Church near the Rowland Shovel Factory. His tombstone has two crossed cavalry swords and says "Meet me in heaven."

Peter Fesmire lived to 80 years of age and died April 27, 1873.

Thomas Fesmire

Thomas Jefferson, the fourth son was born May 14, 1804, and it is not difficult to see where he got his name since Thomas Jefferson was president at the time. Thomas was a farmer in Oxford and Bristol townships, but in 1849 purchased a farm in Horsham, Montgomery County where he lived the rest of his life. His first wife was Mary Johnson whom he married in the Frankford Presbyterian Church on December 21, 1828. She died in 1852, and in 1861 he married Rosa DeMoore Lewis. Thomas died August 5, 1872 and is buried at Hatboro Methodist Church. Vandals defaced the tombstones in this churchyard causing their removal, but a tablet inside the front entrance of the church lists the names of those buried in the churchyard.

Samuel Fesmire

Samuel Castor, the fifth son was born about 1806 in Oxford Township. He was a currier by trade and lived for many years in the Village of Richmond in Philadelphia. He married Elizabeth Snyder in the Frankford Presbyterian Church on January 6, 1825. One of his sons, George Snyder Fesmire, was a carpenter and helped to build the Old Brick Church in Philadelphia. Samuel died about 1882. I have had the pleasure of meeting some of his present day descendents.

Jessie Fesmire

The youngest son of Captain John was still a minor when he father died in 1828, and his older brother John who had no children, was appointed his guardian. But this was not for long because Jessie died a few months later. An old family Bible lists his death on April 20, 1828, just two months after his father's. Mary the mother had double sorrow that year: first her husband died and then her youngest son.