PETER FESMIRE, JR.

1833 - 1895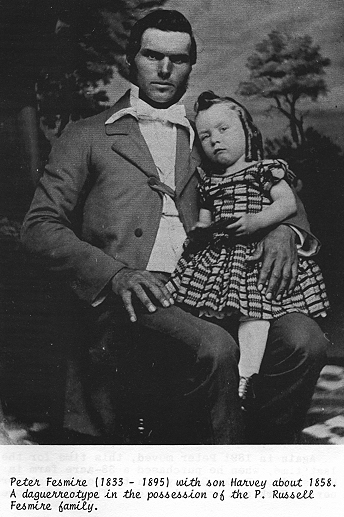 Peter Fesmire, my great grandfather and son of Peter I. Fesmire, was born May 8, 1833 in Oxford Township, Philadelphia. He was one of four brothers (Henry, Peter, Josiah, John) all of whom were big men: they weighed 250 pounds each, and collectively they weighed a half ton. According to a story given me by his granddaughter, Henry who lived in Warrington was a tough farmer who went barefooted both summer and winter, and was noted for his great strength: he could knock down a horse with his bare fist. Personally, I have wondered why anyone would want to knock down a horse, but there may have been reasons.

Peter grew up in Oxford Township and married Martha Louisa Sprouls who was born on November 6, 1837. I do not know the date of their wedding, nor have I been able to re-construct with any certainty the order of events in their lives. I know that in 1855 they purchased a farm on Street Road in Buckingham Township for the sum of $ 8100, but by 1860 they had moved to Milltown, Delaware, where Peter's brother Josiah lived. I learned this from the 1860 census which lists Peter and Martha living in Delaware with their little son Harvey, aged four years. This census record helps establish Harvey Fesmire's birthdate as 1856, rather than 1855 which is on his tombstone. Also he was born on February 29 which means he was born in Leap year and I believe Leap years come on even not odd years.

After farming in Delaware Peter took his family back to Pennsylvania and for a time lived in Abington Township on "the road leading to Rowland's mill in Cheltenham." Perhaps it was here their second son, Albert Rowland, was born on May 18, 1863. This is he for whom both my uncle and my brother are named. I might remark that he is the only member of Peter Fesmire's family I ever met. I remember when a boy once going with my father to see his "Uncle Bert" at the farm on Street Road in Davisville, and I recall a white-haired, ruddy faced farmer coming out of the barn and saying to my father "Hello, Wilmer."

In 1876 Peter purchased from his father's friend, Josiah Kerper a farm in Moreland Township, Montgomery County, near the village of Southampton on County Line Road. My father was born on this farm as were a number of his brothers and a sister. The family may have lived in the area before 1876 since Peter is listed as a trustee of the Southampton Methodist Church in 1869. The church is no longer standing or in existence but stood at the corner of County Line Road and Second Street Pike, little more than a stone's throw from the Fesmire farm. Probably Peter was a Methodist and worshipped at the Southampton church before moving there. I have hea rd that at one time he attended the Somerton Methodist Church.

Again in 1891 Peter moved, this time for the last time, when he purchased a 38-acre farm in Hartsville, Bucks County, on the north-west corner of York and Bristol roads. The brown stone, double farmhouse still stands at the intersection of the two roads. At Hartsville the family attended the Presbyterian church and Peter was Assistant Sunday Scholl superintendent. When he died in 1895 at the age of 62 years, the church presented his widow with a hand-written scroll in testimony of his service. Peter is buried at Hatboro Cemetery as is his wife who died 21 years later in 1916, having made her home with her son Albert until the time of her death.