Web owners note: It is with Harvey that Lloyd Fesmire, the writer of this booklet, and I part with our common lineage for my great grandfather was Harvey's brother, Albert (number 69 on the genealogical chart). Having said that however, it would be remise of me to not include all of the information that Lloyd wrote down - for other Fesmires who are looking discover their heritage. In the next chapter, "Albert Rowland," Lloyd writes about my great grandfather - most of which I assume he learned from my grandfather, Horace (number 136)
-----------------------------------------
HARVEY FESMIRE

1856 - 1897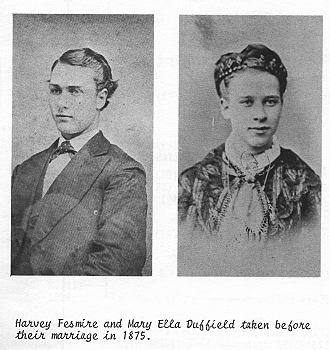 I know very little about my grandfather's life other than that he was a farmer and died at the early age of 41 years. He was born February 29, 1856 and attended school at Saw Mill schoolhouse on Second Street Pike above Fox Chase, Pa. The little building is now part of a church structure that has occupied the site for many years. Later he attended Lollar Academy in Hatboro which I suppose was the equivalent of high school today. He grew to be a big man weighing 220 pounds and standing six feet, one inch tall. His brother Albert, in contrast, was shorter and could stand under Harvey's outstretched arm.

Early in life Harvey met Mary Ella Duffield, the daughter of Christian and Mary Duffield. Mary Ella was born in Weldon, Pa., but was living near the Fesmire farm when she met Harvey. The stone house the Duffields lived in is still standing and is a part of what is known as Justa Farm on Huntingdon Pike above Bryn Athyn; it is located about two blocks south of County Line Road on the east side of the street. When I was a boy it stood up on the hill, but was moved down near the street to make way for the large Elkins house. I remember seeing it moved across the field.

Harvey and Mary Ella were married in the Davisville Baptist Church on May 16, 1875 by the Rev. William Conard. The Duffield family belonged to the church and one of grandmother's nephews, Conard Duffield, was named for the pastor. Harvey was a good singer and led the choir; he also conducted singing classes for farmer folk who would come together for an evening of song in the school house. I have in my possession the little tuning fork with which he would give the pitch.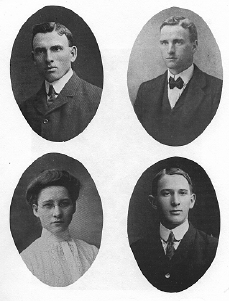 Following their marriage Harvey and Ellie (as he called her) lived at nearby Sorrel Horse and then moved to the Fesmire farm where they lived in the tennant house. During those early years eight children were born: the twins Frank and Walter in 1876; Anna Williams in 1877; John Wesley in 1879; Harvey Ottiwell in 1881; Peter Russell in 1883; Mary Jane in 1885; and my father, Thomas Wilmer in 1889. Sometime after 1889 the family moved to Cheltenham to a rented farm, I believe, but soon moved to Hartsville, Bucks County where the Fesmire parents lived. The twins, Albert and Martha, were born there in 1893.

A year later in 1894, Peter Fesmire bought a farm on Street Road in Davisville for his son to operate, but Harvey did not remain there long. According to the story that has been told me, he received a head injury while helping a relative cut down a tree. Complications from the injury and other illness robbed him of his health, and he was taken to the hospital in Norristown. An auction was held at the farm resulting in the family moving once more, this time back to Hartsville where they lived in a small house on Bristol Road near the Fesmire farm. Harvey Fesmire came home from the hospital an invalid and died there in 1897, aged 41 years. He is buried at William Penn Cemetery in Somertown. My father's only memory of him was during those last months at Hartsville: he remembered holding his hand as they went for a walk.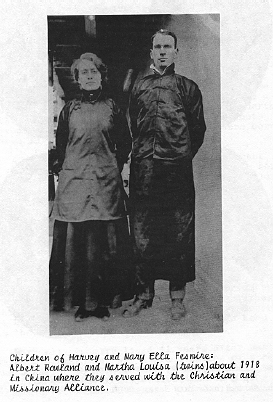 Mary Ella Fesmire lived 41 years after her husband's death and was a great source of strength and blessing to her family. It was no small task to raise a large family without the help of a husband and with limited means. Grandmother tried various ways of earning a livelihood. She had an ice-cream shop in Jenkintown, but it failed. Most of the time she did housekeeping and pratical nursing. The children all grew up, with the exception of three little ones and lived useful lives: Frank the eldest, delayed his own marriage that he might help the family; he was a farmer. Wesley tried many things in life, including railroading and carpenter work. Jane did practical nursing and contracted tuberculosis causing her own early death. Russell and Wilmer both learned the carpenter trade and later went into business together as "Fesmire Brothers." When their sons grew up, they established separate businesses. Albert and Martha went to China as missionaries with the Christian and Missionary Alliance. Albert died in China in 1939 following an operation for appendicitis and is buried in Kansu province on the border of Tibet. His wife Minnie, continued on in China until the Communist take-over of that land and now lives in New York state. Grandmother herself, died the same year as Albert, having lived to the ripe old age of 82, greatly beloved of her family and the favorite of all her grandchildren.