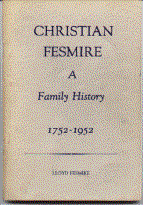 Contents
Christian, Captain John, The Sons of John, Peter, Jr.,
Harvey, Albert Rowland, A personal Word & Map from back cover
Genealogical Chart, Genealogy
Preface
The compiler of this little history has spent some pleasant, spare-time hours becoming acquainted with various members of the family, many of whom had lost contact with and knowledge of their other relatives.
Visits to the historical societies and county courthouses, plus scattered information from many sources pieced together over the past twenty-five years, have yielded the family history which I present here with the hope that all who read it will find it of interest.
I take this opportunity to thank all who have assisted in the task and so graciously furnished information when requested. Also, I apologize for any errors that have crept in unawares.
Lloyd Fesmire
Bradenton, Florida 1979
---------------------------------------------------
Introduction
The first census of the United States, taken in 1790, records four families in the country with the name "Fesmire.11 Two of them lived in Philadelphia and two in North Carolina. The two in North Carolina were Martin and William Fesmire. A descendent of theirs, Mr. Edward Lafayette Fesmire of Tennessee (an octogenarian in 1955) informed me that Martin and William were brothers who came to this country from Germany and journeyed to North Carolina by ox cart. They may or may not be related to the family in this book.

The two families who lived in Philadelphia are "John Fessmeyer, Northern Liberties," and Christian Fesmire. Here again I have not been able to establish any relationship. John was a tanner by trade and before that a soldier in the Revolutionary War. Born in 1752, he enlisted at Philadelphia, September 4, 1776, in the Pennsylvania German Regiment and served throughout the war. His military service record in the National Archives lists him among those encamped at Valley Forge, White Plains, and Camp Fishkill, and states that his regiment was engaged at Trenton, Princeton, and Monmouth. After the war he married Catharine Braentigam, and his sister, Margaret, was married to his companion-in-arms, Philip Losch (Lesh). Both of these soldiers had children whose names I do not know, and both died in 1821.

Christian, the fourth Fesmire of the 1790 Census, was born in Germany in 1733 and came to Philadelphia almost 40 years before 1790. The Census lists him and his son, John, as living in Oxford Township, Philadelphia. He is of special interest to me because I am descended from him, and because he lived in the formative period of our nation's history. His part in the stirring events of those years, although certainly humble, is none the less, the heritage of all his descendents.