CAPTAIN JOHN FESMIRE

1767 - 1828

John Fesmire, son of Christian and Martha, was born in Oxford Township in 1767. He married Mary Steinmetz August 28, 1788 in the Third Presbyterian Church of Philadelphia where the Rev. George Duffield was pastor. Ten children were born of their union.

Like his father before him, John was a farmer and a military man; his name appears as a member of the 2nd company, 4th battalion of the Phila. militia in 1784 when he was only 17 years of age. Ten years later in 1794 he was commissioned lieutenant, and still later he became a captain. An old Philadelphia newspaper, dated May 5, 1804, announces a military parade in Second Street, one of the units of which was "Captain Fesmire's Rifle Corps of Frankford."

All this military activity came to a climax in the War of 1812, when President Madison called into service the militia of the nation. Frankford, Philadelphia, alone furnished four companies. John Fesmire's "Independent Frankford Riflemen" was federalized July 4, 1814 when the city was in danger of British attack. It consisted of 87 men, three of whom were the captain's sons. Christian, the eldest was first lieutenant, and John and Peter were privates. Other names on the muster roll familiar to the Fesmire family are Samuel Duffield, Joseph Engle, and Jacob Engle who became his son-in-law.

None of the Frankfotd companies participated in a military engagement; rather they were employed in the defense of Philadelphia. Captain Fesmire's men were stationed with others on the Delaware river below the city near Marcus Hook for a period of four months. The record mentions Peter Fesmire (my great, great grandfather) on furlough October 15, 1814. I imagine he was seeing a certain Miss Catherine Castor whom he married seven months later.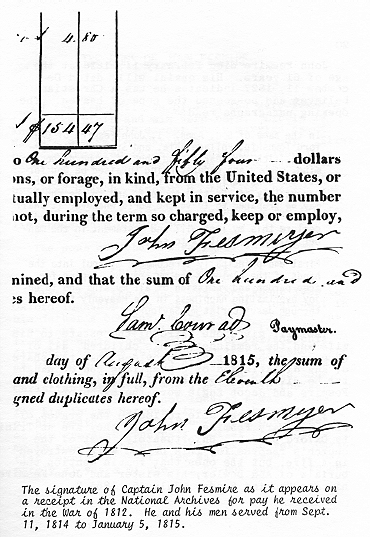 For his services the Captain received $154. 47 and for it signed a receipt which is in the National Archives. Present day Fesmires will be interested to know he spelled his name "Fesmyer." The men of his company, in addition to pay they were given at the time, subsequently received bounty land in the western states. Peter Fesmire, typical of many, received 40 acres in Tazewell County, Illinois in 1850 and sold them in 1852. Later he was given 120 acres near Fort Dodge, Iowa which he sold in 1857. In a written statement he says, "I was a private in the Rifle Company attached to Col. Thompsonts regiment at Camp as Marcus Hook, and the said company was commanded by my father, Captain John Fesmire.11

Community affairs as well as military duties engaged Captain Fesmire's interest. The village of Frankford which was adjacent to Oxford Township became a borough in 1800, and the legislative act called for the new borough to be governed by "two chief burgesses, five assistants, a high constable, a secretary, and a treasurer." When the first election was held on May 15 of that year, John was chosen "high constable."

John Fesmire died February 11, 1828 at the age of 61 years. His quaint will, dated December 11, 1827 indicates he was a Christian believer and possessed the hope of heaven.
The opening paragraphs read:

"In the name of God, Amen. I, John Fesmire of Oxford Township, Philadelphia, and State of Pennsylvania, sick and weak in body but of sound disposing mind, memory and understanding (praised be God for it) and considering the certainty of death and the uncertainty of the time thereof, and to the end I may be prepared to leave the world whenever it shall please God to call me home, do therefore make and declare this my last will and testament in the manner following, that is to say,

First and principally I recommend my soul into the hands of the Almighty God my creator, hoping for free pardon and remission of all my sins and to enjoy everlasting happiness in the Heavenly Kingdom, through Jesus Christ my Saviour."

The will gives one third of the estate to his wife and the remainder to his children, all of whom are named. It also provides that the share of any dissatisfied or contentious son or daughter be divided among the satisfied ones. Peter Fesmire and Jacob Engle were the executors.

I have not been able to locate the graves of John and Mary Fesmire. Possibly they are at Trinity Oxford Church. Unfortunately, most of the church's records for this period were destroyed in a fire, but the ones that remain mention the burials of Ann Bowler, his sister and John Fesmire, his son "buried Sunday, July 15, 1855."