CHRISTIAN FESMIRE

1733 - 1797

Those who read the newspapers in 1755 in Pennsylvania may have noticed the advertisement in the Germantown paper of April 16th. It said:

Samuel Flower and Benedict Bartholomae advertise that three German servants ran away from Reading Furnace, Chester County: a wheelwright named Jannewein, Christian Fismeyer, 22 years old, and Andreas Golden, 20 years old.

This simple notice is the earliest record we have of Christian Fesmire in America. Behind it lies the tragic story of many German families who came to this country seeking a new life, only to become victims of exploitation. Christopher Sower, the editor of the newspaper, addressed a letter to Governor Denney just a month before the above notice in which he complained of the way his countrymen were plundered and starved on the ships and their chests stolen. Many were sold into virtual slavery for as much as six or seven years to pay for their passage.

We may assume this was the lot of young Christian Fesmire. The Pennsylvania Archives (2nd Series, Vol. 17) lists the arrival at Philadelphia on October 20, 1752 of the ship "Wirtenberg, from Rotterdam, last from Cowes." Among the passengers who took the oath of allegiance at the Court House was one "Johannes Facemeyer" who could be the father of Christian, although I have no proof of it. The variation in spelling is no obstacle, for we must remember that immigrants arriving could not speak English, and some clerk doubtless wrote the name phonetically as best he could. Christian himself would have been nineteen and evidently was sold as an indentured servant. With his new master he journeyed westward to Reading Furnace to become part of Pennsylvania's primitive iron industry. His new home, 36 miles from Philadelphia, was one of a group of wilderness iron plantations strung along French Creek in Chester County. Others included Coventry, Warwick, and Hopewell.

I visited Chester County in 1961 and was able to locate the sites of these furnaces. Reading is now part of a large private estate called Reading Furnace Farms. There is little to see in the way of ruins, although I did notice at one of the farms a free-standing chimney with ancient masonry which may have been part of an old furnace.

More definite ruins may be seen at Warwick and Coventry. A fourth furnace, Hopewell, is now a National Historic Site and in 1961 was being restored by the Federal government. Here one may see an 18th century charcoal-burning iron furnace with its associated structures-casting house, shops, barns, tenant houses, and the big house where the iron master lived.

I was particularly impressed with the demonstration of charcoal making at Hopewell. Perhaps this was Christian Fesmire's task at Reading Furnace in 1755.

Westward to Bedford

After some two and a half years as an indentured servant, Christian ran away from Reading Furnace. Where he went and what he did are uncertain, except for two things that emerge from the records. One is that he married and had a child. The records of the Schwarzwald Church, about 15 miles east of Reading Furnace, state that Pastor Daniel Schumacher on October 17, 1756 baptized "Maria Margaretha Fesmeier-- father, Christian Fesmeier, wife Helena." This is a year and a half after Christian ran away. We know nothing further of this marriage, but subsequent events indicate the wife and daughter may have died from illness-- something that often happened in those days.

When we next hear of Christian he is a soldier in the French and Indian War. The Pennsylvania Archives (Fifth Series, Vol.1) give a muster roll of officers and soldiers in the service of the Province, and in the return of Captain Hambright's Troop of Horse, camped at Rays Town, July 11, 1758 are "John Fitzmire, one horse and Christian Fitzmire, one horse." Remembering the spelling difficulties of those days, this could be our Christian. His companion may be the "Johannes Facemeyer" who arrived on the Wirtenberg. History tells us that Rays Town, later re-named Bedford, was the basis of operation for the capture of Fort Duquesne (Pittsburg) in 1758. So Christian and John may have participated in that expedition. Captain Hambright's troop is mentioned a number of times in the records of that year.



Oxford Township, Philadelphia

We push onward now seven years to 1765 when Christian, aged 32, met and married Martha Nesmith, the daughter of a farmer in Oxford Township, Philadelphia. The ceremony is recorded in the marriage records of St. Michael's and Zion Lutheran Church in Philadelphia as follows: "June 10, 1765, Christian Fesemeyer and Martha Nesmit." Oxford Township from then on became Christian's home. Martha's parents, Arthur and Eleanor Nesmith, had settled here in 1756, and here in Trinity Church yard they were buried. Martha inherited part of their 180 acre farm when her father died in 1775.

Old records at the Philadelphia Court House show that Christian prospered as time went on. A tax list of 1783 assesses him for 1167 acres, 2 horses, 2 cattle, 6 sheep." Three years later we find him purchasing 1125-21 acres with stone dwelling house, for the sum of 275 pounds lawful money of Penna." Again in 1788 he added to his holding "a lot situate in Township of Oxford by land of George Gaster (Castor), 65 pds in specie." An earlier record of 1778 is a quaint "Articles of Agreement" between "Christian Fesmire, yeoman, and Adam Holt, carpenter."

It reads:
Whereas Christian Fesmire hath covenanted and bought all Mathias Smith's property and Adam Holt having dug a ditch to water his meadows... Christian grants him the right to use run of water and turn the same along said ditch at the head of Christian Fesmire's meadows and use the same for watering his meadows.

Christian signed this agreement by making his mark!

I have not been able to determine the exact location of Christian's farm. However, a letter written by a Mrs. Elizabeth Fergusson in 1792 speaks of him as "the man who lives near Oxford Church." This is the old Trinity Oxford Church which still stands today between Rising Sun and Oxford Avenues, just south of Cottman Street. Of course the area is all city now, whereas it was peaceful farm land then.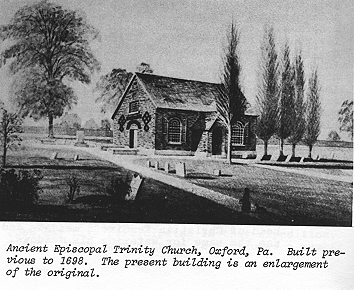 Five children came to bless the Fesmire home:
Eleanor in 1766, John in 1767, Ann in 1772, Martha in 1774, and Christian in 1776. Perhaps because travel was difficult and dangerous when the British occupied Philadelphia during the Revolution, the children were not baptized until 1780. But on a Sunday in April of that year, Christian took his family over the country lanes from Oxford to Germantown, and there in another St. Michael's Lutheran Church the children were offered to God in baptism.
The record written in German says:

Baptisms, 1780, April 13. Christian Fessmeyer und Martha, seine frau, G. Die Eltern
und andere.
kinder des
Eleanore aged 14 years, 3 mos.
Johannes aged12 years, 4 mos.
Anna aged 8 years, 2 mos.
Martha aged 5 years, 6 mos.
Christian aged 2 years, 5 mos.

The task of providing for five young children doubtless kept Christian busy during the Revolutionary years, but he found time for other activities. I note here a historical puzzle I came across involving him and Elizabeth Fergusson of Graeme Park in Horsham. She was the daughter of Dr. Thomas Graeme and was married to Mr. Henry Fergusson, an English loyalist ten years her junior who had come to America a few years before the Revolution. Here is the story.

In the winter of 1777 the Rev. Jacob Duche, Episcopal clergyman of Philadelphia, alarmed by the reverses of the American cause, wrote a letter to Washington at Valley Forge to induce him to give up the struggle for independence. He prevailed on Mrs. Fergusson to carry it to Washington, who indignantly forwarded it to Congress.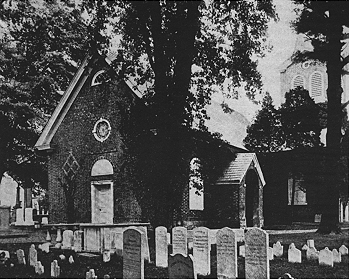 Subsequent events indicate that Mrs. Fergusson was a patriot and may have been ignorant of the letter's contents, but her husband may not have been, for he was accused of treason and left the country never to return or to see his wife again. She spent much time and effort the rest of her life justifying herself. In 1791 she wrote a letter from Graeme Park to a Mrs. Smith in Philadelphia which mentions Christian

Fesmire. Evidently she thought he had information that would help acquit her good name. Here are the pertinent parts of it:

...I ask him (Mr. Bond) if he will Devote a forenoon to coming out of town any part of the day he shall name to the Jolly Post at Frankford. I will make his hour mine and bring with me there to him Christian Fesmire the man who lives near Oxford Church that he may hear the Mans own evidence and Relate it to Mr. Fer. Or if he does not chuse to take that trouble If he will see Him in town If I bring him to Mr. Bonds house ...

I again repeat that the Man is either bribed to say what he does or he speaks the truth as in His mode of relating there can be no Error but Wilful Error, wicked wilful error. If Mr. Fergusson hears this and Denies the whole then it will show the Villany practiced on Him: If he owns it it acquits me, But if he will neither speak one way nor other in reply I shall to those Friends in England who have condemned me without knowing the truth write a full detail of my conduct...

Did Christian's information relate to the years 1777-1778 before Henry Fergusson left for England? We will never know. It is one of those minor puzzles of history which I leave the reader to resolve. We do know, however, that Christian was a patriot, for his name appears on the Philadelphia militia list of 1781 when he was 42 years of age. He is listed as "Christian Fishmire, 2nd class private in Lt. Col. Benjamin MeVaugh's Battalion." (Penna. Archives, 6th Series, Vol. 1).

The years following the Revolution may have been the golden ones of Christian and Martha's lives. But even they contained tragedies, for the two youngest children, Martha and Christian, died between 1780 and 1797, perhaps in one of the many epidemics that swept Philadelphia. The other children grew up and married: Eleanor, the eldest, was married to Philip Smith and went to live on the Pennsylvania frontier in Allegheny County; John married Mary Steinmetz and helped his father on the farm; Ann was married to John Bowler, cabinet maker in Oxford Township, and settled down in a tenant house on the family farm.

Christian's life came to an end in 1797, and the fact that he died intestate may indicate he died of a sudden illness. Letters of administration for his estate were granted May 26, 1797 to John Fesmire, his son and John Bowler, his son-in-law. The whole was valued at "2194 pounds, 7 shillings and 8 pence lawful money of Pennsylvania." The property was apportioned equally between the three living children, but not without some trouble, for there were two hearings on the matter before all were satisfied. A farm was given to each child, but no mention was made of the widow, although she was living. Doubtless she made her home with one of the children.

It is my opinion that Christian and Martha Fesmire are buried at Trinity Church with Arthur and Eleanor Nesmith. There is no stone -at least no legible one-- to mark their resting place, but the church's records mention burials of their descendents, and I believe they are there too.