6-24-14 Tuesday.
We knew this morning would be difficult. Being there and learning what happened at Auschwitz, the horror, the inhumanity, the massive scale of murder - it was emotionally draining to say the least. I wish everyone would have a chance to visit this place where unconscionable crimes were committed.

Photos - Auschwitz & Birkenau (Auschwitz II)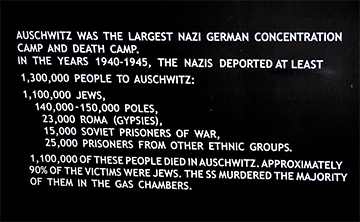 Our bus ride back was a chance to recover so that we might enjoy the rest of our day in Krakow.
Photos - Krakow afternoon & evening

This morning may be an emotional one, as you visit Oswiecim, better known to Americans by its German name of Auschwitz. This is the location of the State Museum of Auschwitz-Birkenau, set on the site of the largest of the World War II concentration camps as a memorial to the millions of Jews, Gypsies, and "enemies" of the Nazi regime who were killed here. Grand Circle Foundation has donated generously to assist in the expansion of this educational center.

You'll visit the infamous concentration camp at Auschwitz and make a brief stop at Birkenau, often referred to as Auschwitz II. This was one of about 40 satellite camps built around Auschwitz.

You'll then return to Krakow and spend this free afternoon at leisure.