6-21-14 Saturday.
During our meeting with the son of an Auschwitz survivor was informative and personal. It was hard to hear what his father endured without tearing up.
The Chopin piano recital was a real treat - wonderful music in a beautiful venue.

Photos - Auschwitz survivor's son, Warsaw, Chopin piano recital & dinner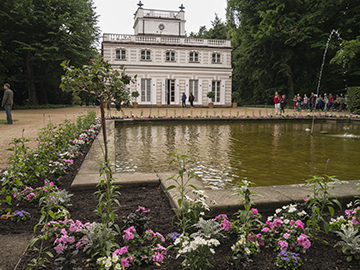 This morning, meet with the son of a former Auschwitz prisoner to learn about the strength and courage of a concentration camp survivor.

Then the day is yours to relax or explore—or a little of both. You may want to revisit places that you saw on yesterday's city tour. Maybe you'll enjoy a bird's-eye overview of the city from the towering Palace of Culture and Science. From here, you can gaze across the Vistula River at the Praga, a former artisans' district.

Ask your Program Director for suggestions on where to dine on your own tonight. Warsaw is teeming with kawiarnia (cafes), which move outdoors in the summer. You may want to find one where you can enjoy your evening meal.

Or, in the early evening, you can attend an optional Chopin piano recital with dinner, enjoying the music of Poland's best-known and most beloved musician.