6-18-14 Wednesday.
Jumping into travel mode we did bus and walking tours of Berlin this morning, found a great local pub for lunch and went on the optional UNESCO Potsdam tour in the afternoon.
Photos: morning tour & lunch
Photos: Glienicke Bridge, Postdam, Cecilienhof Palace, Sanssourci Park, and dinner.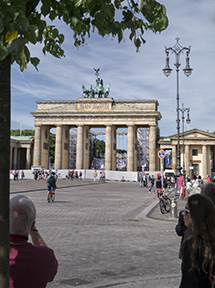 "Discover the city that once represented the Cold War and is now the face of the rebirth of Eastern Europe on an included city tour that will introduce you to Berlin's rich history and vibrant present. You'll visit the Brandenburg gate, a symbol of triumphant spirit which is perhaps Berlin's most recognizable landmark.

You'll also discover Checkpoint Charlie, the most famous crossing between the two German states, and a powerful symbol of the divide between East and West.

The spirit of modern Berlin is also well-represented in the new Reichstag building. The original structure was badly damaged by the Soviets during the battle for Berlin at the end of World War II. The reconstructed building now features an impressive glass dome on top of the building, to represent the openness and transparency of the German government for the modern age.

The afternoon is yours to explore on your own, or you may want to visit Potsdam, a UNESCO World Heritage Site, during an optional tour. You'll discover Glienicke Bridge, better known as the "Bridge of Spies" during the Cold War. Then visit the Cecilienhof Palace to discover the important role Potsdam played during the post-World War II era. Stalin, Truman, and Churchill met here to determine how to deal with a defeated Germany. You will also enjoy a walk through the gardens at Sanssouci Park, which offers a large selection of flowers across the sprawling landscape. The cost of this optional tour includes dinner."