6-22-14 Sunday.
The visit to the shrine at Czestochowa was a treat during our transition to Krakow. After our group dinner our local folk entertainment was excellent, and a lot of fun. An evening walk through old Krakow was almost dreamlike and one of the highlights of the trip.
Photos - Warsaw to Czestochowa to Krakow.
Videos - Krakow, Poland - Folk dancers, musicians & singers. 1. Singing & Dance, 2. Dancers spinning & singer, 3. Dancers with our group, 4. Dancers & our group, 5. Dancers.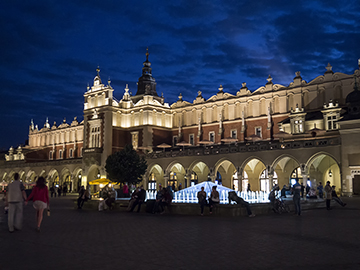 After an early breakfast, travel to one of Eastern Europe's cultural capitals, Krakow, during a 200-mile transfer that takes a full day (including stops). During the transfer, you'll pause for a visit to the shrine at Czestochowa. Religion and spirituality are an integral part of Polish society—deeply felt and solemnly celebrated. You'll experience this for yourself during your visit to the 14th-century Jasna Gora Monastery in Czestochowa.

Once a year, tens of thousands of pilgrims walk from Warsaw to Czestochowa to celebrate the Feast of the Assumption. It's a nine-day journey, one that dramatically symbolizes the religious devotion of the Polish people. What draws them is the legendary "Black Madonna," a Byzantine painting of the Virgin Mary that is housed in the hilltop Jasna Gora Monastery. The portrait, which is attributed to St. Luke, has several levels of significance to the Polish people. It became the eternal symbol of Polish nationalism in the 17th century when a small band of soldiers and monks successfully defended the sanctuary against a Swedish assault. Additionally, the portrait is said to have miraculous powers. The slashes on her cheeks are believed to have been wrought by a would-be thief who became enraged during his attempted theft when the painting mysteriously grew heavier and heavier, forcing him to leave it behind.

You'll find yourself among a community of devout Poles of all ages and classes, the monastery's religious populace, and the bustling market with religious statues, rosary beads, and mementos.

Upon your arrival in Krakow—the seat of Poland's oldest university and the capital of the country until 1596—join your Program Director for a vicinity walk to familiarize yourself with the area around your hotel.

Gather with your fellow travelers for dinner this evening and enjoy included entertainment during a folk performance.