6-20-14 Friday.
We really enjoyed Warsaw, particularly the "old" reconstructed city although it was hard to think that it was essentially leveled as a punishment for the 1944 Uprising during WWII.

The home hosted dinner with a local farming family was a great time to sample Polish home cooking while spending time with wonderful people. Very enjoyable!
Photos - Warsaw and local host dinner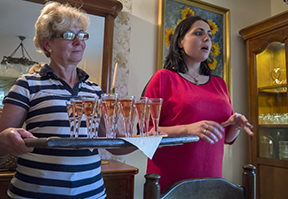 After breakfast this morning, set off on a half-day Warsaw city tour. Once a vibrant and glorious capital, Warsaw suffered heavy damage during World War II, and the Nazis virtually destroyed it after the Warsaw Uprising in 1944. Its rebirth and rebuilding since the end of the war is inspirational, as you'll see on your visit to the historic reconstructed Old Town, surrounded by 14th- and 15th-century walls. Located on the left bank of the Vistula, the "Queen of Polish Rivers," Old Town's narrow, winding streets, charming houses, churches, and cobblestone marketplace will enchant you. Your walk will be enhanced by the fact that the Old Town is closed to all traffic except pedestrians and horse-drawn cabs.
You'll travel down the Royal Road, from beautiful Lazienki Park to the Royal Palace, and stand before the Heroes of the Ghetto Memorial, a large but simple slab of dark granite in the heart of the World War II Jewish ghetto.

The best way to peer deep inside a culture is through its people—this is a belief that Grand Circle takes to heart. That's why we've arranged for you to be welcomed into a local home in the area near Warsaw for a unique opportunity to see how the Polish people really live, and to get acquainted with a local family as you break bread and share conversation with them during an intimate dinner in their home.

Your visit will give you invaluable insight into the daily lives of this region. During this exclusive cultural exchange, you'll witness firsthand the proud traditions of generations past, gain an appreciation of the importance of family in this culture, and perhaps look into the eyes of Poland's future in its young adults and children. And, of course, a highlight of your visit will be a delicious, traditional home-cooked meal, and maybe even some of that famed Polish vodka.