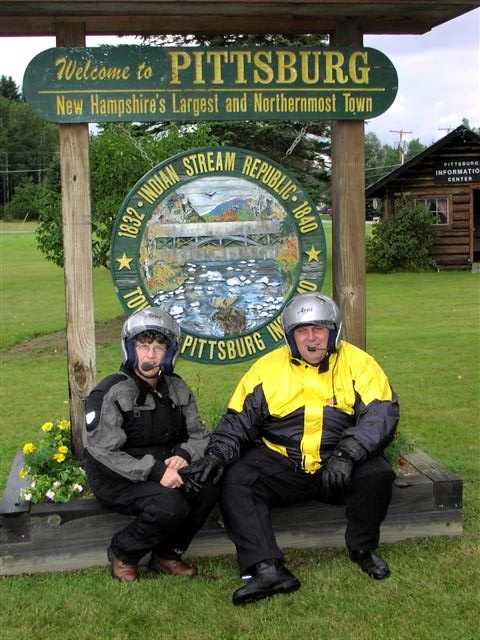 Trip Report – To Top of NH Tour
August 15-17, 2003
Well, the idea of this trip started last fall after we did a 3 ½ day tour of Vermont with friends. The same long time friends joined us to tour New Hampshire this time. As last year, most of the ideas for the route came from a book, "Motorcycle Journeys Through New England" with a few ideas gained from the New England Riders forum on Delphi.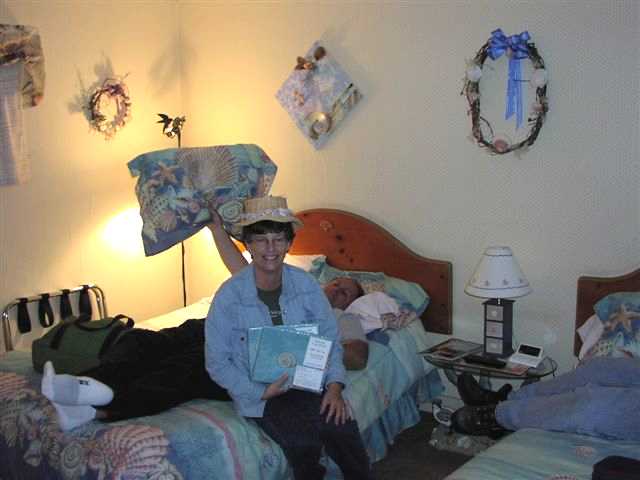 Friday – after all managed to get out of work a little early we took off at 4:30 pm for a super slab ride up Rt3N into NH, then Rt89N and up Rt 10N to Rt302E and stopped for the night in Wells River, VT. Yea, I know it's not NH but I had to take Bonnie to sample the food at the P&H Truck Stop.
It was introduced to me earlier this year - on my first run with the NER group – and my first run across the Kancamagus Highway. Cranking on the Kanc was a rush, but that's another story. We stayed at the Wells River Motel, an experience in itself with it's theme rooms, but that too is another story.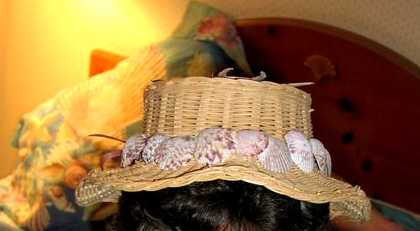 The sea shell hat - a part of the decor.
The highway run was the normal stuff – fast with the upper third of Rt89 being picturesque - but Rt10 was really good, with its winding curves following the river north. We just wished we were on it longer. (note to myself: run the length of Rt10 someday).
Saturday – up at the crack of 8:00 am we were underway for our first full day of riding by 9:00 (ok, so we're not early risers).
We started out on Rt302E but then cut across Rt117, Rt116, Rt18, and Rt142 to rejoin Rt 302 further east. (note: Rt302 has one mile of hard pack dirt – no problem though). This was some excellent backcountry NE roads with moderate twisties, little hills, forests – just plain fun riding – a great way to start off the day. On Rt302 we entered the White Mountain National Forest with its fantastic mountainous scenery - tree lined tops, deep notches, and mountain floor waterway. We couldn't resist a stop at Crawford Notch – breath-taking beauty. Forgot to take the camera out. Duh!
Back underway, we found hunger pangs were giving notice – it was time to eat. OK, here it is, the food find of our trip – the Bartlett Village Café on Rt302 in Bartlett. It is a very friendly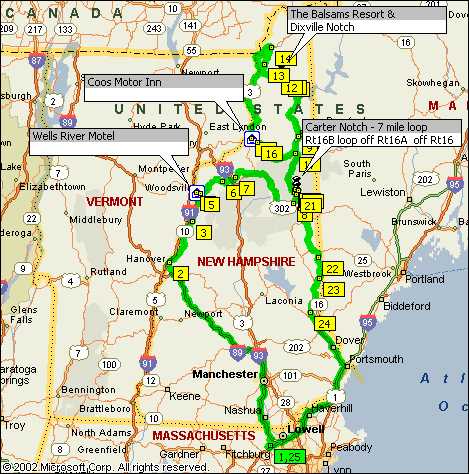 place run by Jeff Butler and Diane Watson, and do they ever serve up some good grub – and at a moderate price. We even got to see the Conway Scenic Railroad pass by the café – gave a wave to the tourists. Highly recommended!
On the road again, we took Rt16 north. The first part of this – until above Berlin, was spotted with tourist stuff. Fortunately, the threatening rain held many folks home – and out of our path of travel. Nice road - able to run 55 plus when the cages weren't in the way. Then we got to the really good riding on the upper part of Rt16 - and then Rt26W. Wonderful roads, great scenery, I thought I died and went to heaven.
Then it happened - we came to Rt145N! And then I knew, we WERE in heaven. What a great motorcycling road. In the limited 15,000 miles I have traveled on the bike in the last 16 months, this road ranks right after the Kanc in NH and Rt17 in VT. What an exhilarating run – sweepers, twisties, and roller coaster up and downs - on one if you don't slow down you will find your butt several inches above the seat before you make a very steep run back down the hill. The only problem - this road has the same fault that the Kanc and Rt17 have – way too short. Only 13 miles – but oh, what great miles. Highly recommended!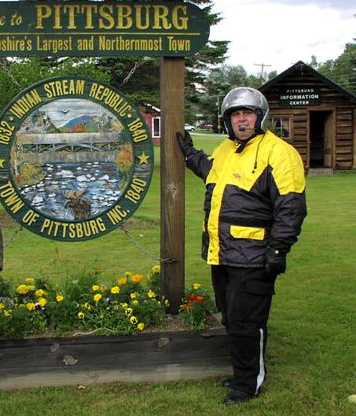 We stopped in Pittsburg, NH – the largest (geographically) and most northern town in the state, with a whopping population just over 900. The small gas station, the cute little church, the wedding we rode past – oh, what a Norman Rockwell moment. A snap shot into a much simpler life style.
It was decision time – to push on, farther north to the very top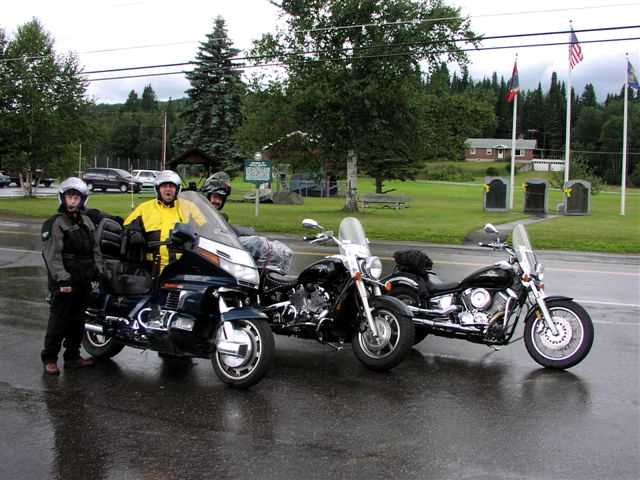 of NH and take a look at Canada or, let the intermittent rain turn us around and head in the direction of the night's lodging. Two of us were game but alas we have both learned the wisdom of paying attention to and at times following the desires of our spouses.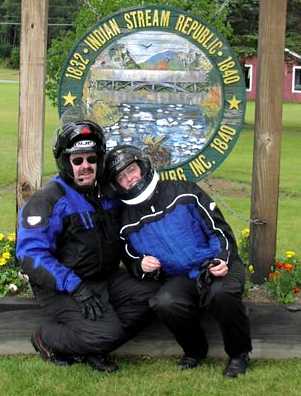 We headed south on Rt3, then Rt2E to the Coos Motor Inn in Lancaster. These are nice secondary highways. The Inn was on parallel with a Courtyard by Marriott and was moderately priced. I counted 10 motorcycles in the parking lot including our three. It gets a "recommended" rating from our crew.
Sorry to say, we didn't find any eats worthy of noting. A quick continental breakfast in the morning and we were on our way for day three.
Sunday, day three – back on Rt2 east. What a nice highway. Well, until the cages started showing up. I think running this road in the off-season might be better. However, going south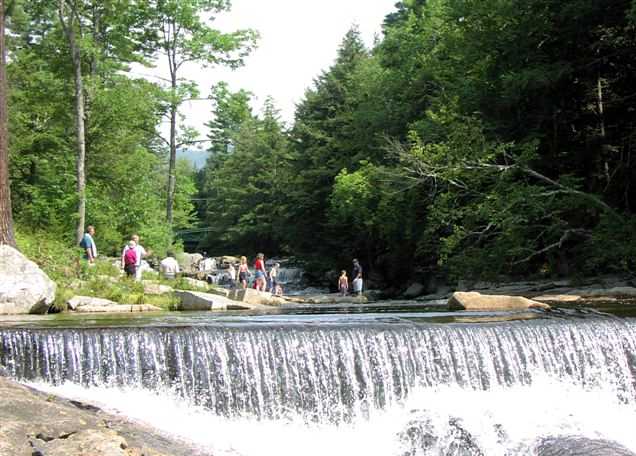 on Rt16 we made a wonderful stop at Carter Notch. A nice little 7 mile loop that includes a place to pull off and enjoy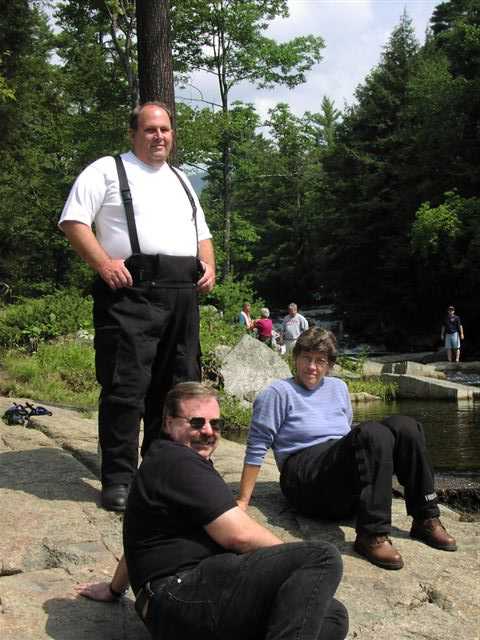 a cascading stream. What a great place to take a rest.
Then it was back to running with the cages with kids. Although I support folks having a family life, I just don't want to be where they are when I'm riding. Six Gun City and water parks draw too many cages – like they were being drawn by some huge magnet – clogging up "my" road. Ok, it wasn't that bad. At least not until we got to the Conways – they come in pairs you know – north and original. Ugh!
But there was hope. I heard mentioned several times on the NER forum of a great road labeled Rt153. Turning left out of Conway we headed off to 50 miles of one country ride that was a chameleon – gentle rolling hills on a silky smooth road, rough surfaced twisties, remote town denoted by only a nameless one pump gas station (I thought I heard the music from the movie Deliverance), sweepers - you name it. I loved the road. It's on my list to ride again someday.
Once we turned onto Rt11 we were heading back home. Our riding mates decided it would be too boring to go down Rt16 to Rt95 then Rt495 as was planned. So they took the lead and took us east on Rt202 - which I had to admit sure beat the slabs. We caught Rt93S for a quick jaunt home.
Miles: 575
Moose sited: 0 (darn)
Riding pleasure: priceless
This was my first long ride since Americade in early June, 2003. It reminded me just how much I love to tour on a motorcycle.
--------------------------------------------
Click for MS Streets & Trips file - Top of NH Tour
Click for PDF file of directions only (map is above)