You're Crazy!

That's what some folks would say about what I did. It wasn't too many years ago and I might have thought the same thing even if I didn't say it out loud.

I was thinking that turning 64 years old several days before was my motivation for attempting such an adventure and it may have been a factor. But this wasn't my first attempt. I've planned it 3 times before only to be thwarted before I even started by events out of my control - getting sick, torrential rains and other commitments. But not this time!

And before you ask, I'm not sure I have a good answer to the question of, "Why?" Is it the challenge, the desire to accomplish, or maybe it's the cool license plate holder you get with the words "The Worlds Toughest Riders" on it. Or, to borrow a phrase - "because it's there."

What's the "it?" It is riding an Iron Butt Association certified Saddle Sore 1,000.

The requirement is to ride 1,000 miles on a motorcycle within 24 hours.
To qualify for certification requires documentation including: witnesses, date/time stamped gas and food receipts, map of the route and more. It has to be verifiable that the route taken is in fact the shortest (not the fastest) path between the receipted points using computer programs like Microsoft's Streets & Trips.

I did my homework about LD (long distance) riding and learned various strategies with the main objective being to ride safe. I've been back into riding for over 8 years, taken 4 riding courses and have over 90,000 miles under my butt. August 8, 2010 was the day to bring it all together.
For various reasons I had been walking 2 miles a day for the last 6 months and managed to lose 30lbs. I was in the best riding shape I've been in since getting back into riding.

The bike was prepped days before; tires checked for sufficient tread and exact tire pressure, gas, suspension settings, windshield cleaned and polished, installed my Laminar Lip for added windshield protection, reset the trip meters, downloaded the route to the GPS, load paper maps on the bike as backup, a change of clothing should I want it under way, and a toothbrush. I've never been a high physical endurance guy and I left open a contingency plan to bag it part way through and get a motel room - if I felt the fatigue was too much and I wasn't able to ride safely. For several days beforehand I shifted my sleeping hours to be ready to start very early in the morning and do most of the riding in the dark while I was still fresh.

That was also part of my reasoning for wanting to do this 1,000-mile ride on my own - not with a few other folks. Although there are good reasons to ride with others - for safety - I knew I would be best served by riding based on how I felt so I could start when I was ready, stop when I needed to and take rest periods based on what I needed.

On August 8, 2010 I awoke at 1:30 am, 45 minutes before the alarm was to go off. I knew it made little sense to try and go back to sleep - might as well get on with the adventure.
A few minutes later I was putting on my riding gear and my wife was up with me to take pictures and to see me off.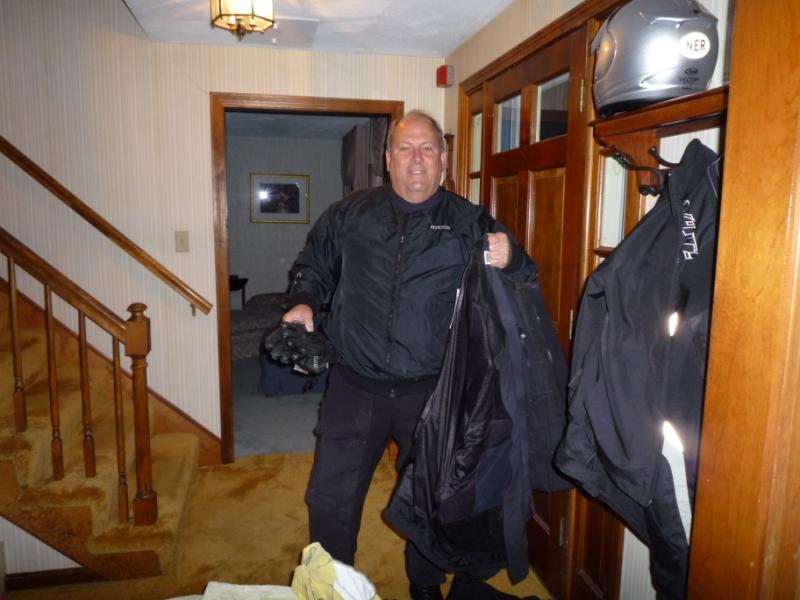 And when I walked out to the kitchen I saw this note from my daughter.
I loaded up the cooler with water bottles and ice and trooped to the garage to put them in the bike. I started today's route in the GPS. According to the GPS it would be 16 hours of riding. But then it doesn't know about rest/gas/food stops or traffic and fog.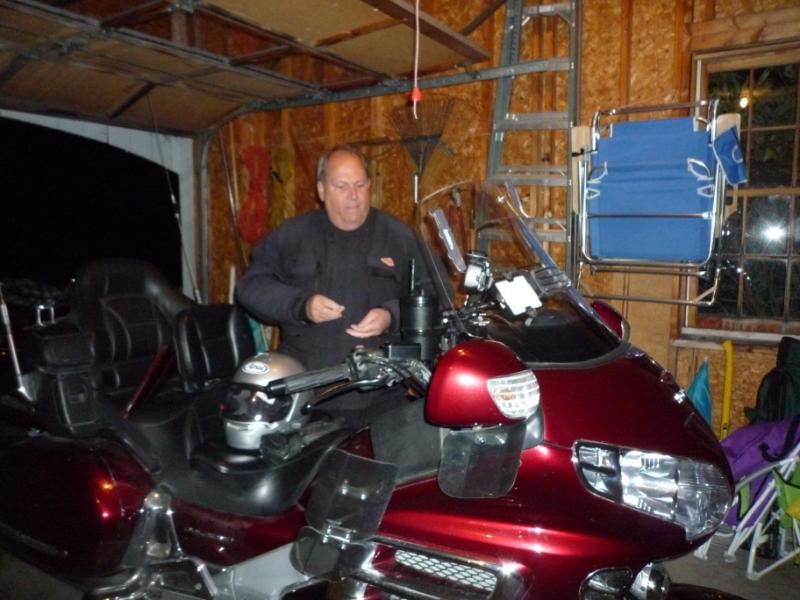 Backing the bike out I could feel the excitement building for what was in front of me. I knew this was one of those things I refer to as a "life experience." It was time to begin. I pulled out at 1:40 am and turned towards my start point, a local Mobil On the Run and with my official time stamp start of 2:00 am. I would be returning almost exactly 19 hours later.
1:40 am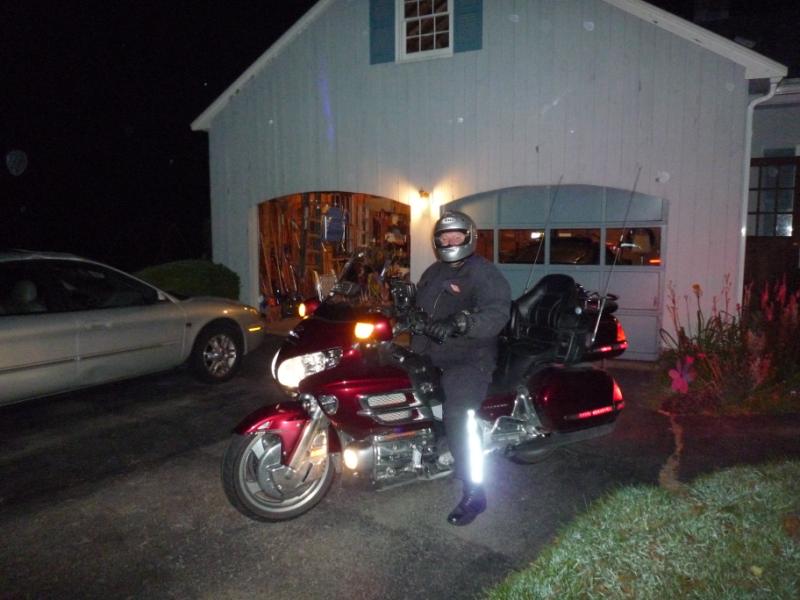 Funny thing about Rt495 in the middle of the night - I pretty much had the road to myself. In a few minutes I settled in and set the cruse control for 70 mph. That of course is the speed indicted by the GPS which is much more accurate than the bike's indicated 75 mph. This was the speed I did much of the ride.
My route is not complicated, Rt495 and then get onto Rt90 (Mass Turnpike) and go west, all the way to Pennsylvania.
I need to pin down this turn for certification so I stop at the Charlton service plaza to get a gas receipt. The next leg is a long one so a stop in the rest room is called for. On my way out someone made me have a quick breakfast. <grin>
2:54 am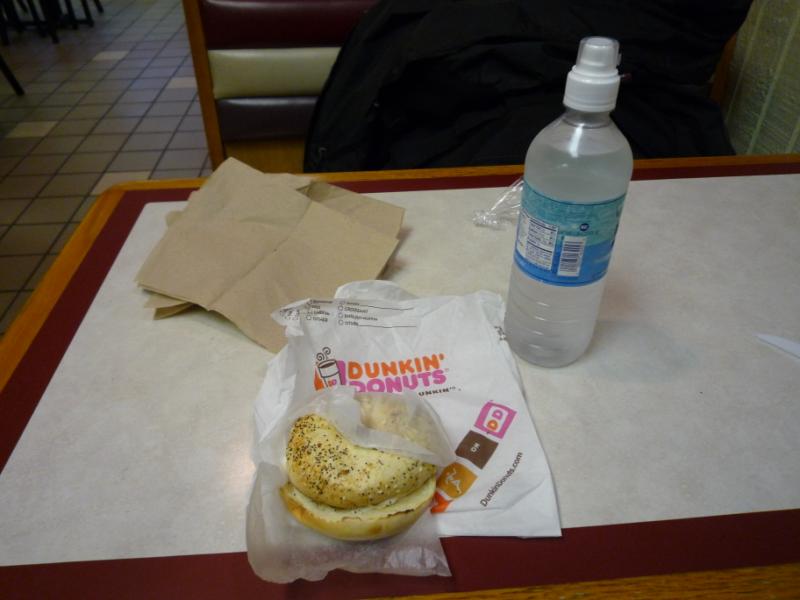 It was the first of two breakfasts this day. My second stop wasn't for another 2:45 hours unless I felt I needed it sooner - which is how I rationalized this breakfast. I had to travel out the Mass Pike into New York, past Albany and Schenectady. I had been drinking while riding (I have a mug set up on the handlebars to stay hydrated) but a bottle of cold water seemed to be just right.
6:07 am
Pulled into the Iroquois Service Area on the NY Throughway. I had been concentrating on relaxing and keeping a light touch on the handlebars but the back of my shoulders were beginning to hurt a little. I must have gotten more relaxed as the day wore on, as by the second half of the ride the muscle soreness had faded.
Temperatures were lower than I expected - ranging from 52 to 55 degrees for what has been about 1/4 of my planned ride. Good thing I have a heated jacket liner. I stayed nice and warm.
A restroom visit (remember, I've been drinking to stay hydrated besides being an older male). :-)
With a gas fill up I make the required entry into the log I keep for certification and then stuff the receipt into a waterproof bag I'm using.
It is 288 miles to PA so I know I'll need another stop for gas. Shortly after being back on the road I notice the dark heavy clouds ahead. I quickly turned on the Gold Wing's radio and tune to the local NOAA weather. I hear, "rain, lightening and very gusty winds." I'm thinking what a dummy, I never actually checked the weather for western NY. I'm going to do this in heavy weather. Ugh! Then as the looped report came back to the beginning it said that today was going to have some gusts up to 15 mph (a little bothersome on a bike while on the highway but not a problem), the temps were going up to 85 degrees (I've planned for that) and there will only be a brief light drizzle in the morning. Phew!
8:30 am
Pulled into the Seneca Service area and after the requisite rest room visit (did I mention I've been drinking while riding and that I'm an aging old guy) I notice there is a Tim Horton's. Hey, it's 8:30 and time for breakfast. I needed one of my favorites - sausage, egg and cheese on a croissant. It went well with a small decaf coffee.
Gassed up, entered data into the log, geared up and pulled out. Next stop, Pennsylvania.
Then I hit the fog, for miles at a time. Had to slow the speed down to match it to how far I can see. Sunrise was around 6:00 am but if hadn't burned the fog off yet. After about a half hour of this it cleared and I was back to cruising speed.
10:57 am
Get off the highway, turn and there is the BP gas station that others have seen when using this route for their SS1000 certification. The MTF (Motorcycle Tourer's Forum) sponsored an SS1000 ride last year using essentially the same route.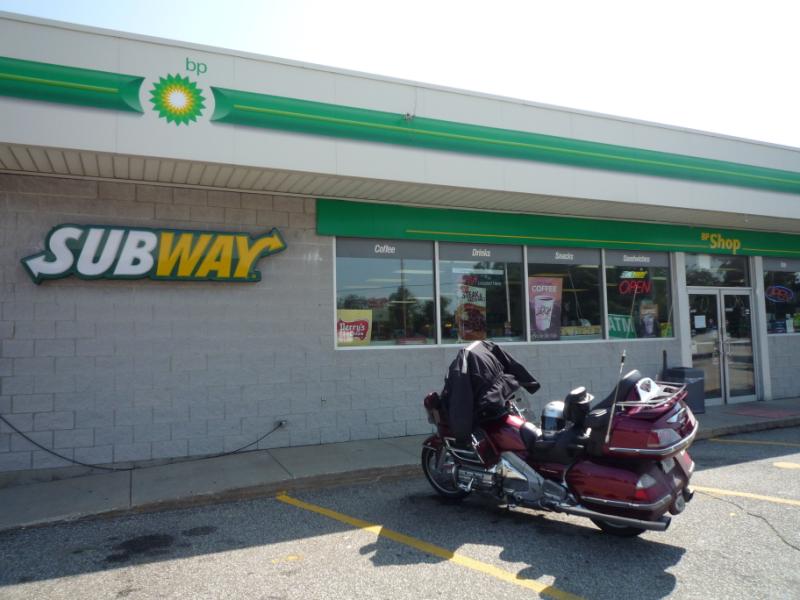 I'm feeling rather pumped up. I've done half of the 1,000 miles and now I know I'll be able to complete the remaining miles. It's a good feeling knowing that you will accomplish what you set out to do. I just need to keep doing what I've been doing - focusing on the next leg and not thinking beyond that. And ride safe.
I promised my wife that I would call her at the half way point. It was fun to share the "I'm gonna do this thing" feeling with her. She is always supportive of everything I want to do.
While on the call I found myself looking for shade from the sun. The temps were over 80 degrees. Time to wet my LD Comfort shirt. It's a long sleeve double layer shirt made just for this. It has high tech material with the inside layer designed to wick perspiration to the outer layer which then evaporates the moisture. While in the men's room (did I mention the drinking and being old) I soaked the shirt. It must hold close to 2 pints of water. While riding I adjust the after market "wings" on the bike to control how much air passes through my jacket. The evaporative cooling is rather amazing. It keeps my core temperature in check so I avoid over heating and can keep my attention on riding.
This like all of my stops was between 25-30 minutes but now it's time to ride. One last picture of my bike and the BP pumps.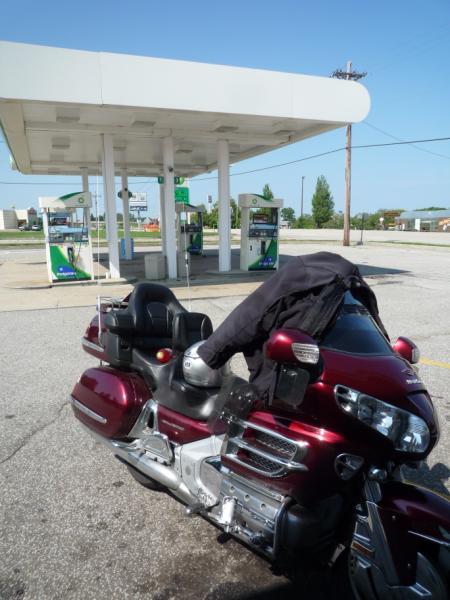 I again realize that many parts of New York are very pleasant to ride through. The Finger Lakes region has been on my list of places to spend some time on a bike. Maybe next year?
1:38 pm
One of the things that makes this an "easy" SS1000 is that all the gas/rest stops are right on the highway. Easy off and back on again.
Pulled into the NY Scottsville Service Plaza and make a quick stop in the rest room.
I order up some food, sit down and then find myself wondering. What actually is an Arby's roast beef sandwich? It doesn't really look like beef, well not any beef I've ever gotten anywhere else. I can identify the bun part. It looks familiar but the meat stuff just doesn't seem natural.
I dump a lot of red sauce that looks like another artificial food on the meat stuff and also add extra horseradish. I don't really want to taste what's inside the bun. I'm pretty hungry and try not to think about it as t slides down and fills the emptiness inside. I love food but I'm just not sure that's what Arby's serves. <grin>
Gas up, enter the info in the log and stuff the receipt into the bag.
Back on the road and I realize I didn't wet down the LD Comfort shirt. I'll just have to drink extra amounts of water to stay hydrated and use the moisture from my perspiration to provide the substance for evaporative cooling. This doesn't work real well as the shirt has two layers but I'll deal with it. Only about 150 miles until the next stop.
When I bought my new bike in 2005 I knew the OEM seat would have to be replaced. It's just not designed for a human pushing the upper limits of most home scales. This is especially true when said human is lacking much flesh on the part that he sits. Russell Day Long built me a seat that accommodates my horizontal giftedness and limited posterior. On this leg of the ride I'm so happy that I made that investment. I've found that occasionally changing seating position allows me to ride without any significant discomfort.
My route:

4:23 pm
As I near my next stop I'm feeling a bit too hot. I see the signs for the Indian Castle Service Plaza and am happy to pull in and get inside.
It's just not fair when they put a Nathan's hot dog place right in front of me. I guess today is not the day I'm going to lose any more weight. I get one of those big bad boys and wolf it down with a diet coke. I love hot dogs and Nathan's is second on my list.
The rest room is too public for me to whisk off my LD Comfort shirt. What am I to do? Outside in the parking lot I open the cooler and pull out an ice cold water bottle and fill up my handle bar mug thingy. It then dawns on me that the cooler is filled with ice water. But how do I get it on the shirt? I'm not disrobing in public - I'd scare many women and small children. I spot the wet cloth in its plastic bag. I had it to clean the windshield if needed. Out comes the cloth, dunk it into the cold water and pat/squeeze it next to the shirt. It soaks up most of the water with some running onto the pavement. Ah, all set for the next leg and I'm a happy and cool man.
Do you know that if you keep using the same credit card at multiple Mobil stations in the same day they make you go inside to show the card and sign for your purchase? One time of that and I switched to my backup credit card. That worked for a while then they stopped accepting that at the pump too. Grumble, grumble...
Gas, log entry and receipt taken care of and off we go on the next to last leg. This is the long one - 2:45 hours.
With only 100 songs on my mp3 player it's now on the third loop round. I've found that dealing with the boredom has been one of the bigger challenges on this ride. At least now I'm in civilization and there are radio stations.
This morning the roads were all mine. This afternoon I'm having to share them with some traffic in New York and now heavy traffic on the Mass Turnpike as I get near Rt84. Lots of folks are coming from the south - Connecticut, New York or even further down the coast.
8:01 pm
Pulling into the Charlton Service Plaza has me wondering if they are giving away free food or gas. It is a zoo! I'm hyper aware and watching every vehicle. I see two "almost collisions" by the time I'm parked and walking across the lot. Inside, is even worse - people everywhere, even in the rest room.
I call home to tell them I'm going to be a little later than predicted due to the traffic. I'm greeted by the answering machine. It's nice to not have folks sitting around worrying about you. I leave the message, "ETA will be after 9:00 pm - it should take 1 hr but with traffic unsure of arrival time home."
It's cooling down now. Good thing as I'm out of water in the cooler and I'm not going to get half naked in a crowded men's room to wet my LD Comfort down.
After about 10 minutes the speed picks up to about 55 mph. I'm relieved because after all the riding I did the idea of sitting in barely moving traffic just didn't appeal to me.
Before long I was going north on Rt495. Traffic was moderate but was moving along nicely. I always look for the safest place to be on a highway. The safest place is in an "open pocket" where there are few if any other vehicles. It's usually not a good idea to stay in the far right lane on a limited access highway as you can be the target of folks exiting and entering the roadway. Tonight the safest place to be is in the passing lane - even though this line of traffic is moving along significantly above the 65mph posted speed limit. I find a pocket for most of this stretch and keep equal distance between the group in front and in back. I say to myself, focus, ride safe, you don't want to mess up now.
When I see the signs for exit 32, Westford, I can feel the skin stretching across the big smile on my face.
A few hundred yards off the highway and I pull into the Mobil station I left 19 hours and a thousand miles ago. Pulling up to the pump for my ending gas receipt I remember that I'll have to go inside as they won't take either credit card at the pump. No problem. I'm so happy I can't wait to tell someone what I've just done. The attendant listened and smiled appropriately as he rung up my sale. His eyes seemed somewhat disbelieving that this old fat guy just rode a motorcycle for 1,000 miles within 19 hours. But I did.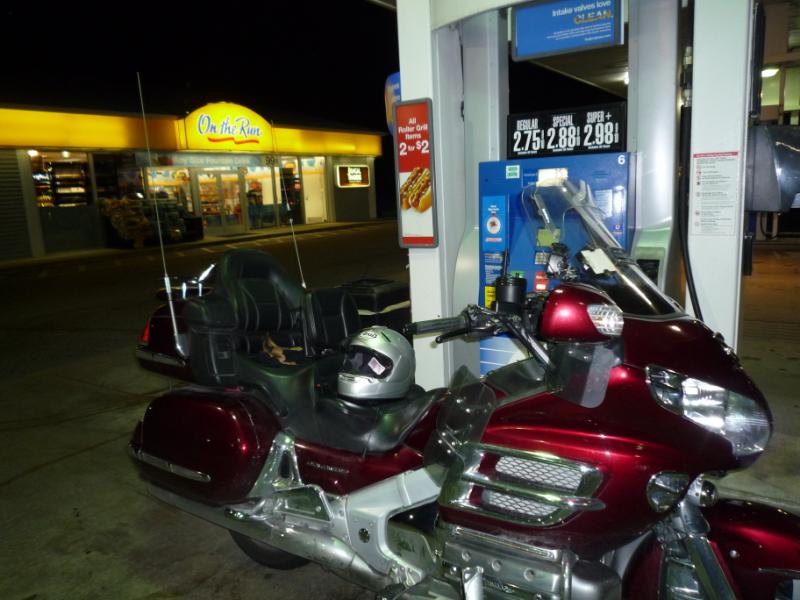 Before mounting up for the short ride home I took a photo of my odometer. The trip meter had gone around once - it only counts up to 1,000 before starting over again.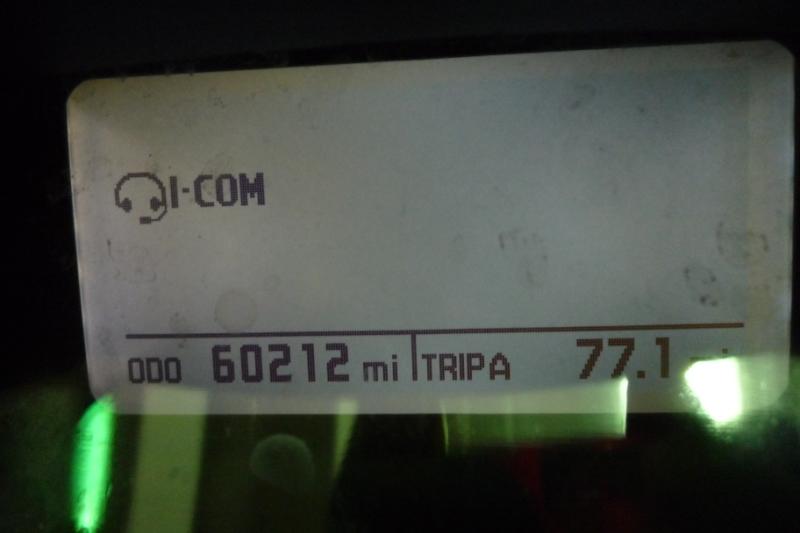 I was feeling terrific. I had completed the challenge, in the allotted time, and kept the required information for this ride to be certified as a Saddle Sore 1,000 by the Iron Butt Association.
Pulling into my driveway there was a welcoming sign.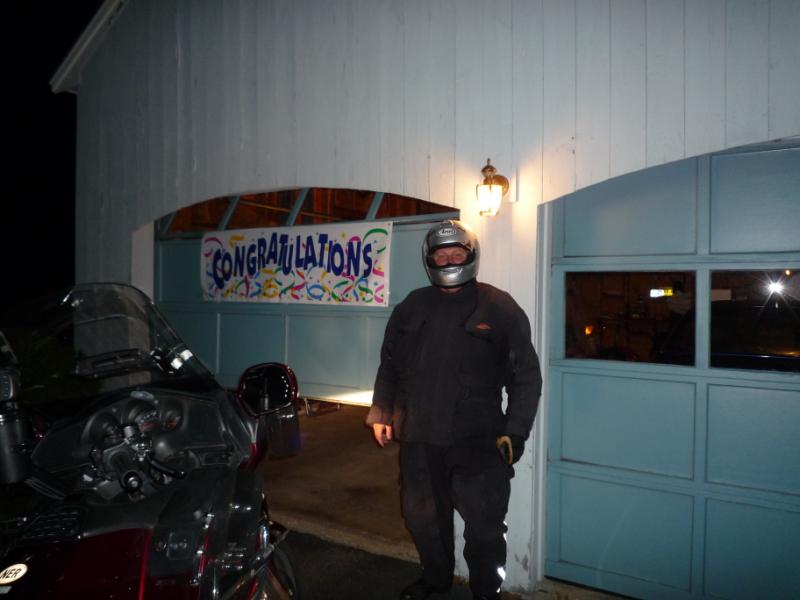 I'm home and I'm happy.
It took a while for the adrenalin to wear off.
Then I had a great night's sleep. :-)
---------------------------------------------------------------------------------------------------------
Update: About 3 months later my ride was certified by the Iron Butt Association and this showed up in my mail box.